The Sauce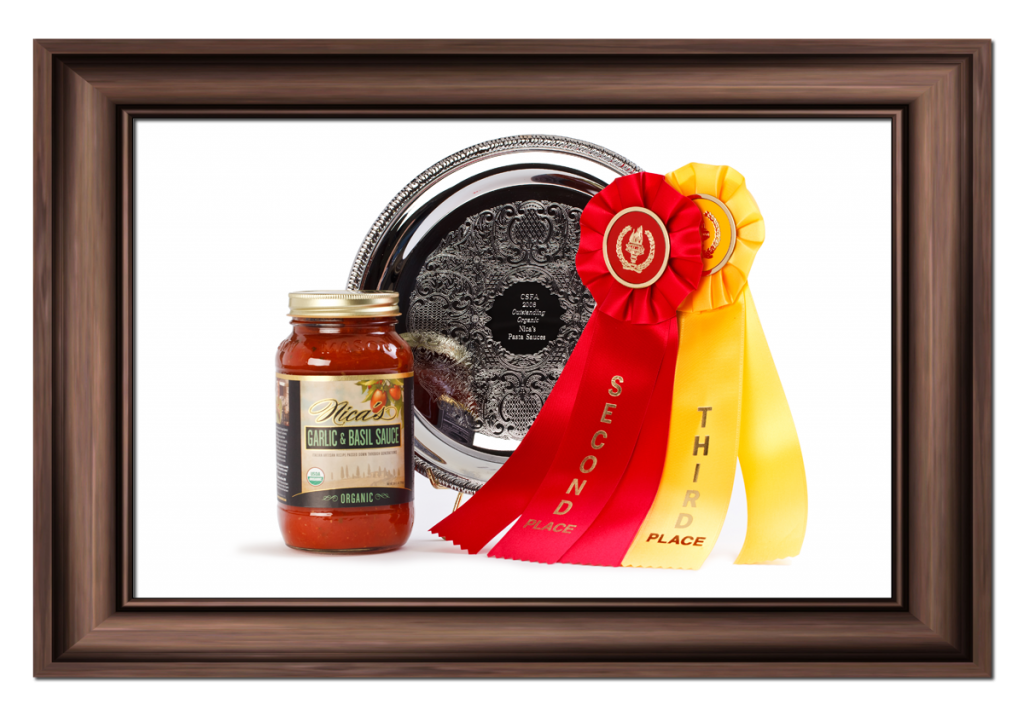 Savor the artisan quality of Giuseppe Sabino's hand-crafted pasta sauces. The authentic Italian family recipe, passed down through four generations, gives you worldly, home-cooked flavor right out of the jar. Named after Giuseppe's granddaughter Veronica, these sauces combine fresh, hand-picked ingredients creating a sublime sensation for your senses.
Nica's values establishing and maintaining a mutually beneficial relationship with our customers. We offer in-store tastings to introduce your customers to our product line. We hope you join our extended business family and give us the opportunity to share our passion for premium, all-natural, easy-to-use recipes with you and your customers.
Our Sauces
Marinara Smooth and versatile. Simply pour over pasta or use for any meat dish, parmigiana dish, lasagna, baked pastas, and so much more. Add chopped meat, peas and carrots and turn it into a Bolognese. Add crushed hot pepper and it's a "Fra Diavolo". If you are felling adventurous add some shelled seafood, calamari, shrimp, scallops and crushed red peppers and you now have a "zuppa di pesce"! Any way you go it will certainly delight your palate.
Spaghetti A close relative of the marinara, but chunkier in style. This sauce will not go unnoticed as you savor your pasta. Chunks of imported plum tomatoes will surprise you with every bite, bursting with rich Mediterranean flavor.
Garlic Chunky in nature, exploding with flavor. A perfect marriage between fresh garlic and basil. The fusion of these spices bring out the richness of the plum tomatoes and extra virgin olive oil.
Smoked Salmon A Nica's original, this sauce will surely surprise you. Smoked salmon and cream blend together to create a unique flavor ideal for penne pasta, pappardelle, or any other rich cut of pasta that is made to scoop the sauce.
Our smoked salmon sauce is excellent as a base for any grilled fish dish. Add grilled shrimps and scallops and pour over linguine… fit for a king.
Pizza In a town famous for it's pizza Nica's sits right up there with some of the best. The secret to a great pizza is the sauce. Our original recipe is now available for you to take home. Simply pour over the dough and enjoy its authentic rich Neapolitan flavor.
Vodka Fresh plum tomatoes and cream blend again to create a sauce like no other. The vodka's purpose is to release flavors in the tomato that are normally inaccessible.The sun dried tomatoes give it texture and richness. Delicious over penne, this sauce is also a must have on lobster ravioli or pappardelle. Add grilled shrimps if you're in the mood for seafood, or just bacon. For a little extra kick add some crushed red pepper. If you're feeling creative use it as a dressing over crab cakes.
Puttanesca A famous southern Italian recipe, this sauce is tangy from the olives, fragrant from the garlic and has a little extra attitude from the anchovies. Traditionally served over spaghetti it also goes well with linguine, bucatini penne and vermicelli. If you want to venture down to Sicily simply add some sautéed green peppers for an interesting twist.
100% organic Nica's also offers 100% USDA Certified Organic Marinara, Garlic & Basil and Spaghetti sauces.
Our attention to detail and pride in fresh ingredients make for world class organic sauces.